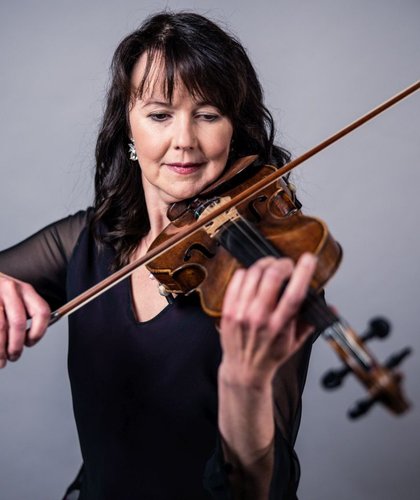 Gabriella Takácsné Nagy
violin
She started learning the violin at the age of five in Miskolc under the guidance of her father, then continued her violin studies at the Béla Bartók Music High School in Miskolc. She is two-time winner of a special prize at the János Koncz Hungarian National Violin Competition. She studied at the Liszt Ferenc Academy of Music under Béla Bánfalvi, András Mihály, Ferenc Rados and Márta Gulyás and obtained a violin player and teacher degree in 1994. In the same year, she won the Gosztonyi prize, and in 1991, first prize at the Leó Weiner Chamber Music Competition as a member of the Amabile String Quartet. She participated in several foreign tours and master classes with the ensemble, including a course with the Amadeus Quartet in London.
She was a member of the Budapest Strings Chamber Orchestra between 1994 and 2014 and has also performed with the Auer String Quartet and the Spring Chamber Music Workshop.
Following successful audition, she has been working with the Budapest Festival Orchestra since 2003. In 2014 her Baroque violin play earned her a special prize with at the BFO's Sándor Végh Competition, and since then she has been a regular participant of the orchestra's Baroque performances.
In addition to performing, she is also active as a violin teacher.