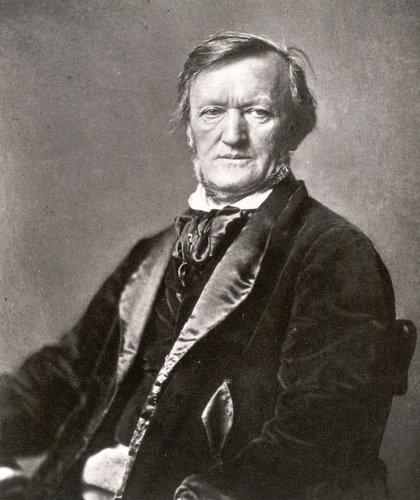 Richard Wagner
Wagner was a remarkable innovator both in harmony and in the structure of his work, creating his own version of the Gesamtkunstwerk, dramatic compositions in which the arts were brought together into a single unity. As a man he was prepared to sacrifice his family and friends in the cause of his own music and his overt anti-semitism has attracted unwelcome attention to ideas that are remote from his real work as a musician. In the later part of his career Wagner enjoyed the support of King Ludwig II of Bavaria and was finally able to establish his own theatre and festival at the Bavarian town of Bayreuth. He developed the use of the Leitmotiv (leading motif) as a principle of musical unity, his dramatic musical structure depending on the interweaving of melodies or fragments of melody associated with characters, incidents or ideas in the drama. His Prelude to the love tragedy Tristan und Isolde led to a new world of harmony.
Operas and Music Dramas
Wagner won his first operatic success in Dresden with the opera Rienzi, based on a novel by Edward Bulwer-Lytton. This was followed a year later, in 1843, by Der fliegende Holländer (The Flying Dutchman), derived from a legend recounted by Heine of the Dutchman fated to sail the seas until redeemed by true love. Tannhäuser, dealing with the medieval Minnesinger of that name, was staged in Dresden in 1845. Wagner's involvement in the revolution of 1848 and subsequent escape from Dresden led to the staging of his next dramatic work, Lohengrin, in Weimar, under the supervision of Liszt. The four operas that form the tetralogy The Ring, Das Rheingold, Die Walküre (The Valkyries), Siegfried and Götterdämmerung (The Twilight of the Gods), is a monument of dramatic and musical achievement that occupied the composer for a number of years. Other music dramas by Wagner include Tristan und Isolde, Die Meistersinger von Nürnberg (The Mastersingers of Nuremberg), and the final work, Parsifal.
Orchestral Music
The best known of Wagner's orchestral compositions is the Siegfried Idyll, an abade written for the composer's second wife, Cosima, illegitimate daughter of Liszt and former wife of Wagner's friend and supporter Hans von Bülow.