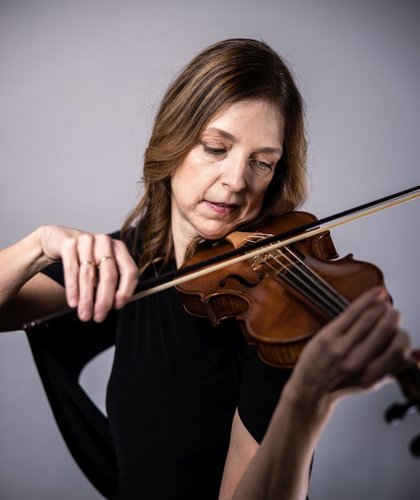 Gyöngyvér Oláh
violin
She pursued her elementary and secondary music studies in her home town of Miskolc. At the age of 18, as the winner of the János Koncz Violin Competition in Szombathely, she was admitted to the Franz Liszt Academy of Music without an entrance examination. She studied in the class of Vilmos Szabadi, Márta Gulyás and András Mihály. Even before her academic studies, she was admitted to the Gustav Mahler Youth Orchestra lead by Claudio Abbado and later to the Jeunesses Musicales World Orchestra. She graduated in 1993 with a first-class honours degree, then spent one year in Prague, at the Academy of the European Mozart Foundation with Sándor Végh, Dénes Zsigmondy, György Pauk and Gábor Takács-Nagy. In 1996-97 with a fellowship granted by the French state she attended a postgraduate course in chamber music at the Academy of Music in Lyon, as the first violin of the Dohnányi Quartet.
She has received awards and prizes at several competitions in Hungary and abroad:
János Koncz National Violin Competition  - 1986
Zathureczky Memorial Competition - 1988, 1990
Leó Weiner Chamber Music Competition - 1989, 1991
International Competition for String Quartets, Austria – 1995
International Chamber Music Competition, France - 1996
Recordings:
Schubert: Octet - 1992
Villa-Lobos: String Quartets (with Danubius String Quartet) – 1992
Since 1994 she has regularly played with the Festival Orchestra, of which she has been permanent member since 1997.