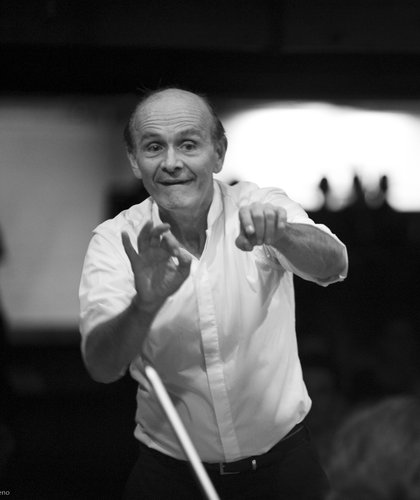 Gábor Takács-Nagy
conductor Principal Guest Conductor
Born in Budapest, Gábor Takács-Nagy began studying the violin at the age of eight. As a student of the Franz Liszt Academy, he won First Prize in 1979 in the Jenő Hubay Violin Competition and later pursued studies with Nathan Milstein. He studied the Bartók's string quartets with Zoltán Székely, who was Bartók's best friend and dedicatee of his 2nd violin concerto. Gábor Takács-Nagy is considered one of today's most authentic exponents of Hungarian music, and in particular, that of Béla Bartók. In 1982, he was awarded the Liszt Prize and in March 2017 the prestigious Béla Bartók-Ditta Pásztory Prize.
From 1975 to 1992, he was founding member and leader of the acclaimed Takács Quartet performing throughout the world with many legendary artists. In 1996 he founded the Takács Piano Trio and made world-premiere recordings of works of Hungarian composers Franz Liszt, László Lajtha and Sándor Veress. In 1998 he established the Mikrokosmos string quartet, recording in 2008 the complete cycle of Bartók's string quartets. In 2002, following in a long-line of Hungarian musical tradition, Gábor Takács-Nagy turned to conducting. In 2006 he became the Music Director of the Weinberger Kammerorchestra and in August 2007, the Music Director of the Verbier Festival Chamber Orchestra.
From 2010 until 2012 he was Music Director of the MÁV Symphony Orchestra Budapest. Since September 2011 he is Music Director of Manchester Camerata, one of the UK's leading chamber orchestras and in September 2012 became Principal Guest Conductor of the Budapest Festival Orchestra. From 2013 until 2017 he was Principal Artistic Partner of the Irish Chamber Orchestra.
He is regularly invited to conduct the Orchestre National de Lyon, the Orchestra Philharmonique de Monte-Carlo, the Orchestra Filarmonica di Bologna, l'Orchestre de l'Opéra de Toulon, the Malaysian Philharmonic, the Calgary Philharmonic, the Bilkent Symphony Orchestra, the Orchestra of Dijon-Bourgogne, the Franz Liszt Chamber Orchestra and the Detroit Symphony Orchestra amongst others.
Gábor Takács-Nagy is also a dedicated and highly sought-after chamber-music teacher. He is Professor of String Quartet at the Haute École de Musique de Genève. In June 2012 he was awarded honorary membership of the Royal Academy of Music in London.