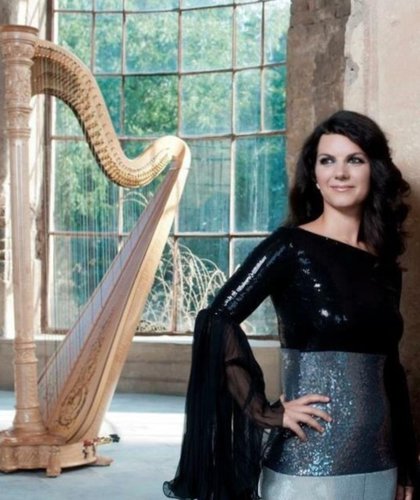 Szilágyi, Kinga Katinka
harp
Kinga Katinka Szilágyi was born in Budapest in 1979. Her initial musical studies were with the Children's Chorus of the Hungarian State Opera and at the Tóth Aladár School of Music, in Budapest's 6th District. She received degrees in oboe teaching and the harp in 2002 and 2008 respectively, and in 2011 she graduated with distinction from the master's programme at the Liszt Ferenc Academy of Music as a student of the Liszt Prize-winning harpist Dr Andrea Vigh.  She has had the opportunity to learn from world-renowned artists including Jana Bouskova, Isabelle Moretti, Maria Graf and Isabelle Perrin. She was awarded a scholarship to the 52nd Academy of Nice where she studied under Marie-Pierre Langlamet, solo harpist of the Berliner Philharmoniker.
She has been teaching since 2005, and her students have won several national and international competitions.
She currently teaches harp at the Vienna Konservatorium.
Besides playing in symphony orchestras, she is also a member of the Ventoscala Chamber Orchestra, a founding member of the Aeol Harp Trio and participates in performances by the Modern Art Orchestra and UMZE. 
She has performed in a number of festivals both in Hungary and abroad (the Gödöllő International Harp Festival, the Zemplén Festival, the Mini Festival, Ars Antiqua Europae in Via Gothica music Festival and the Kurtág Festival).
She has played in the Hungarian premières of several pieces (Bálint Karosi: Orpheus' Harp, world première, Béla Bartók National Concert Hall, 2010; Lowell Liebermann: Sonata for Flute and Harp, Óbudai Társaskör, 2013; Pierre Boulez: sur Incises, UMZE, Liszt Academy Great Hall, 2016). Szilágyi has also been performing regularly with the Budapest Festival Orchestra since 2012.