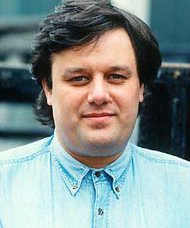 Zoltán Rácz
Kossuth and Bartók-Pásztory award winning percussionist and conductor born in 1960. He graduated from the Liszt Ferenc Academy of Music in 1983.
Solo and chamber works written for percussion instruments caught his attention even as a student. He regularly took part in the shows of the New Music Studio (Új Zenei Stúdió) and premiered many new pieces of work at concerts and recordings. In 1984 he founded the Amadinda Percussion Group, now one of the world's best-known percussion groups, and he is still the music director.
Zoltán Rácz is also an active conductor, regularly leading the UMZE Chamber Ensemble, while his interests centre on contemporary music.