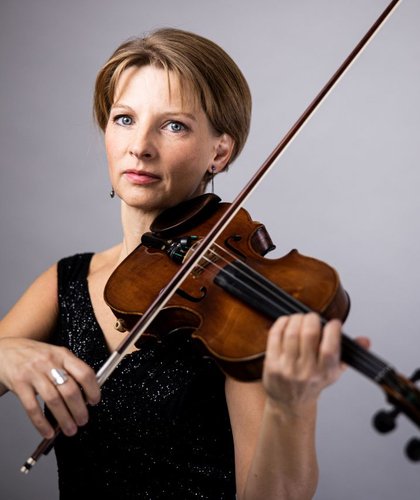 Noémi Molnár
violin
Noémi Molnár was born in Miskolc in 1976. She took her first violin lessons at the age of eight.
She studied at Liszt Ferenc Academy of Music under Eszter Perényi, Márta Gulyás and Sándor Devich, and obtained her degree as a violinist and violin teacher in 1999. She received a Special Award at the Zathureczky Memorial Competition.
Between 1999 and 2001, Noémi Molnár studied for a postgraduate degree in Saarbrücken under Joshua Epstein and graduated in 2001. She attended the master classes of Dénes Zsigmondy, Vilmos Szabadi, Márta Gulyás, Günter Pichler and Norbert Brainin.
Since 2001, she has regularly performed with Ferenc Erkel Chamber Orchestra and the Budapest Festival Orchestra. As a chamber musician, she has played in several international music festivals both in Hungary and abroad. Noémi Molnár also regularly joins the Budapest Festival Orchestra in their Baroque concerts, and in 2019, she was one of the prize-winners of the orchestra's Sándor Végh Competition.