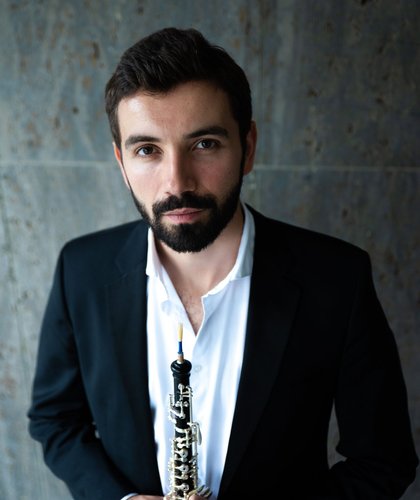 Johannes Grosso
oboe
Johannes Grosso is solo oboe in the Frankfurter Opern- and Museumsorchester and member of the Budapest Festival Orchestra.
In may 2014 Johannes was awarded the 1st Prize of the prestigious Prague Spring International Music Competition. He had already won the French Oboe Association Competition (Brussels, 2007), the 5th International Competition Giuseppe Tomassini in Petritoli (Italy, 2010), the Asian Double Reed Society Competition (Taiwan, 2013) and received the 2nd prize of the Gillet-Fox Competition, organized by the International Reed Society (USA, 2013). Moreover he was awarded the Végh Sándor Competition Prize in Budapest in 2019.
As a soloist he played with the Schleswig-Holstein Festival Orchestra, the Prague Chamber Orchestra, the Czech Radio Orchestra, the Tapei Symphony Orchestra, the Neues Bachisches Collegium Leipzig lead by famous conductors such as Christoph von Dohnányi or Daniele Gatti.
He is regularly invited as solo oboist with many of the leading european orchestras like Bayreuth Festival Orchestra, Chamber Orchestra of Europe, Gewandhaus Orchestra Leipzig, among many others.
Johannes is regularly giving master classes and teaching in various music academies. In 2018, he has been appointed as an oboe teacher at the Norwegian Music Academy in Oslo.