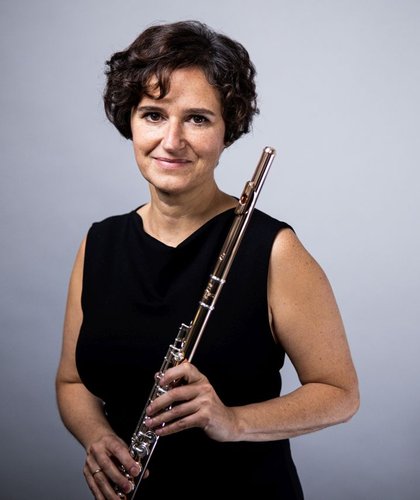 Anett Jóföldi
flute
She won the National Flute Competition while studying at the Kodály Zoltán Conservatory of Music in Kecskemét under Ákos Dratsay. In 1994, she studied with Aurèle Nicolet in Krakow on a scholarship from the Mozart Academy before graduating from the Liszt Ferenc Academy of Music in 1996 as a student of Henrik Prőle. She studied chamber music with György Kurtág. She taught flute at the Székesfehérvár Music Conservatory for four years from 1994, and at the Faculty of Art of Széchenyi István University, Győr since 2011. She was a flutist of the Budapest Symphony Orchetsra between 1993 and 1996, and has played with the Budapest Festival Orchestra since 1996.
To date she has released two CDs: one is a solo album, the other a recording of Mozart's flute quartets performed with other members of the orchestra. As an avid chamber musician, she has performed with pianists such as András Kemenes, Gábor Csalog, Edit Klukon, Imre Rohnmann, János Palojtay and Zoltán Fejérvári. As a soloist, she has played with the Budapest Symphony Orchetsra, the Franz Liszt Chamber Orchestra, Amadinda Percussion Group and the Budapest Festival Orchestra.
In 2006, 2009 and 2019, she was one of the winners of the Sándor Végh Competition organised for the musicians of the BFO. In 2014, she was awarded a special prize.